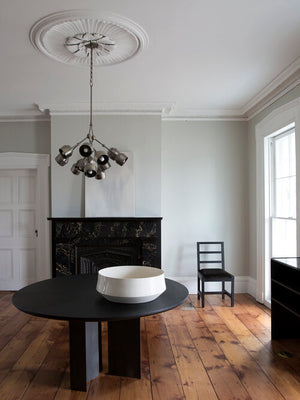 Materia
Cirque Vessel or Bowl
Sale price Price $2,100.00 Regular price Unit price / per
The Cirque vessel, made of hand slip cast porcelain, is a study in scale and textural contract, and is as much a sculptural object as a vessel for service and display. Available three porcelain finishes, the Cirque takes its name from the organic valleys formed by glacial erosion. Cirque's unique glaze, which covers the interior surface and wraps halfway down the outside, meeting raw, un-glazed porcelain at the horizon line, is dishwasher safe, but not intended for oven use. 
Dimensions
22" Dia W x 8" H x 16" Base
Construction
Porcelain 
Finished to Order: Graphite, natural or noir porcelain
Lead time
Typically in stock in New York plus packing and shipping. Lead time will be confirmed at order placement. 
Note: Shipping is not included. M.Naeve will contact you after purchase to quote.