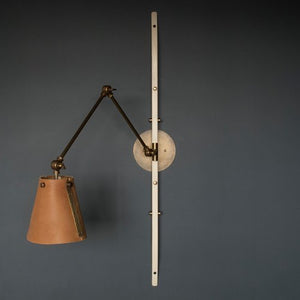 Materia
L'Arc 36" Swivel Sconce
Sale price Price $6,600.00 Regular price Unit price / per
The L'Arc 36" Swivel Sconce was designed with maximum configurability in mind. The brass arm swivels side to side on the wooden armature, while the three brass elbows articulate to shed light exactly where you want it. The L'Arc 36" Swivel Sconce is available in four brass finished, three wooden armature finished, and may be ordered with either leather or goatskin parchment shades. 
Customizations available upon request. Dimmable LED bulbs are not included with purchase and sold separate, please inquire for details. 

Dimensions
Lamp: 31" x 6"
Shade: 6" W Base x 6" H x 3 1/2" Top W
Armature: 36" W x 1.5" D x 3/4" H
Construction
Shade is available in calfskin leather or goatskin parchment. Body is available in brass or silver and with a wooden armature. 
Parchment should be considered a "living" material, and can change shape or shift during acclimatization or due to changes in heat or humidity once installed.

Finished to Order: Leather: Black, cognac or ivory | Parchment: Natural goatskin | Brass: aged brass, aged silver, blackened brass, un-lacquered bras | Wood: Black walnut, ebonized oak, thunderwash ash
Lead time

~ 14 weeks for production plus packing and shipping, rush orders available. Lead time will be confirmed at order placement. 
Note: Shipping is not included. M.Naeve will contact you after purchase to quote.